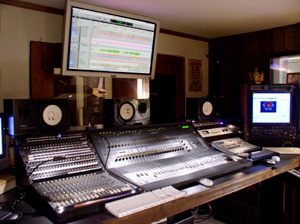 Thank you for stopping by the Shuman Recording website. We offer the highest quality multi-track recording, and world class mastering services with personal care. We also specialize in HD music video production and post production for DVD and Television. With over 26 years of experience in production, you can be sure that your project will be handled with the care and expertise it deserves.
Shuman Recording studios offer a variety of comfortable recording environments that are ideal for inspiring creativity and capturing your best recorded work. Come and find out why so many great artists return time and again and make their finest recordings at Shuman Recording.
---
NEWS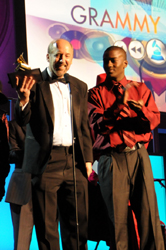 Scott receiving the Grammy award in 2008 for producing, engineering,
and mastering "The Last of the Great Mississippi Delta Bluesmen".
SRS AND FRONT ROW MUSIC AT THE GRAMMYS!!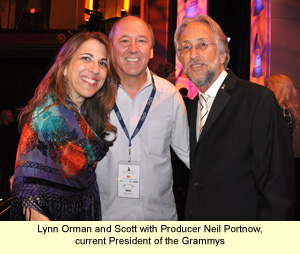 Scott and his new partners presented the recent film, "Six Generation of the Blues" at the new Grammy Museum along with Hartley Peavey of Peavey Electronics, who presented a film documentary of his Mississippi based company.
He accompanied Bluesman,David "Honeyboy" Edwards, CEO of Earwig Music, Michael Frank and Lynn Orman of the Orman Music & Media Group to the Lifetime Achievement Awards at the 2010 Grammys where Honeyboy Edwards received the coveted award . The Front Row Music team were VIPs at the Wilshire Ebell Theater event. Front Row Music TV brought their crew to the Grammy Museum to film the tribute to Mississippi concert there sponsored by Peavey Electronics. They interviewed artists and presenters at the Mississippi Showcase Grammy event.

He's currently producing and editing the Six Generations of the Blues series for Broadcast. and editing and authoring a six DVD set of the" BBs Presents" television series. He's preparing for a new field production for a third season of the BBs television series at the premier venue of the mid west.
Scott continues audio production at the Falls Church studio and is currently scheduling regular recording sessions there. The studio uses the Studer A-80 Analog recorder, the EMT Plate reverb, and Protools HD, for the trademark analog and digital highbred sound of the room. Scott has mastered over 600 CDs and continues to provide the highest qualityproduction and mastering services for his clients.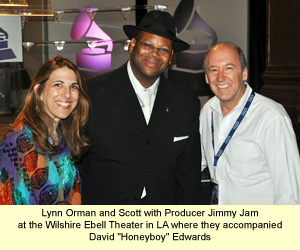 Some current and recent studio and television productions include, Zydeco Legend Roy Carrier, BR549, Chic Corea and the Electric Band, Michael Burkes, Bugs Henderson, Eric Scott, Shane Hines and the Trance, Olabelle, First Rays, The Pietasters, Leaving Texas, Robert Lighthouse, Radio Mosaic John Hammond Jr., Berrelli Lagrene, The Holmes Brothers, Sweet Honey In The Rock, Jim Byrnes, The Big Bamou, Alvin Jett & the Phat Noize Band. David Honeyboy Edwards, Johnny Drummer, John Primer, Big Jack Johnson, The Blue Four, Alen Batts, IONA, Robyn Helzner, Rob Stone........
---
Please call to discuss your recording project.

Falls Church, VA studio:
703-401-4874
Email: shumanrecording@gmail.com