THE SCHOOLHOUSE: HD video and music production studio
Little Schoolhouse Productions • FrontRowMusic.tv • ShumanRecording
"To uplift, to educate, to create and encourage positive values and to enhance the development and spread of the creative spirit."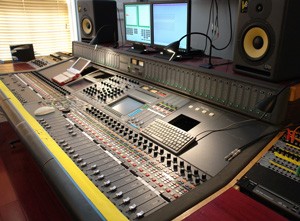 Nestled in in a tranquil valley just west of Charles Town, West Virginia, and between two ridges of the Blue Ridge mountains sits the Jones Springs Schoolhouse. The construction is of stone, solid oak rafters, maple floors and plaster walls and was crafted to create two magical acoustic spaces. . There is a 'feel' in the school that transcends the basic stone and wood construction to create a down to earth vibe, not of this century. It's almost as if you can still hear the children singing and playing in the schoolyard. There is a magic there and an Aura that completely lends itself to the creative process. This is where we have built our state of the art recording studio.
In this beautiful location we produce HD video, record, mix and master some of the most exciting live music performances anywhere. We have Bluegrass, Blues, Country, Jazz ,Celtic and Gospel artists performing and recording there routinely . In addition to a live radio show format ,we package music performances for 28.5 minute TV broadcasts, create CD audio and DVD music video products, and distribute podcasts and downloads through FrontRownMusic.tv. We also create and license music for use in film, and and re-mix and master in 5.1 surround sound ..

The fully automated console was acquired from CBS studios in Manhattan
and features 64 Neve mic pre amps
VIDEO SUITE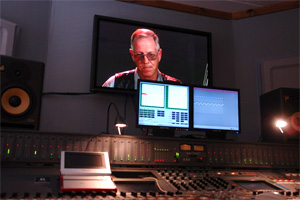 Sony Switcher with 2 HD Plasma Monitors
2 Channel Clear Com
2 Sony Blue Ray HD recorders
3photos---LIVE RECORDING AREA
96'/ L /24' W
12 Channel programmable lighting grid
Raised Floor and Stage Area
Sony HDXD Cameras
32 Channels of audio
24 channel mic splitter
PA w/ floor monitors
Los Mendez Camera Jib with floating head
Track Dolly

CONTROL ROOM FEATURES
Neve libra live Console
Protools w/control 24 automated mixer
Tascam MX24 Hard disc Recorder
AUDIO EQUIPMENT LIST
Neve Console with 64 Neve mic pres,128 AES ins and outs 16 Focurite micpres
4 GML mic pres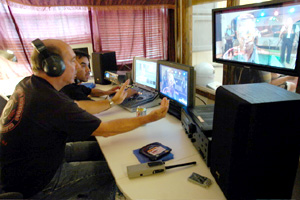 Urei 1176 comp/limiter
Drawmer de-essers
DrawmerCom/Limiterwith Hi freq enhance
Drawmer Comp/Limiter
Inovonics high Freq Limiter
3 BBE Sonic Maximizers
GML8200 EQ
Inovonics 5 band multiband EQ/Comp/Limiter for program Buss
MICROPHONES
1 Soundfield Surround sound Mic
Neumann 170 R
Neumann TLM 103
Neumann U-87
Neumann KM-184 (2)
Bruel & Kraer (4)
AKG 414 (8)
C-1000s
AKG481s
Shure 57 & 58s
Crown Vintage Gold PZMs (2)
EvRE-20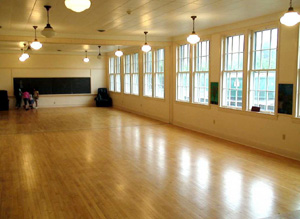 Sennheiser 441
RECORDERS
Tascam MX24 24 bit Harddisc Recorder w/ multiple 80GB drives
Protools-18 tracks
MONITORS
Yamaha NS10M monitors with subwoofer
KRK -8
REVERBS / DDLs
Returns and sends are prepatched /normalled to the board
2)Yamaha Rev 7s
(2)BehringerVirtualizer Pro-for plate simulation
(1)Lexicon201rev DLY
The Schoolhouse studio is available for a variety of productions including conferences and special events
Please call or email for details 703-237-5677 or email shumanrecording@gmail.com.
Block rates for 2 to 5 day periods for CD/DVD music and Video
Day rates for audio and video production
Audio and 5.1 surround sound mixing services
Production and producer services are available