At Shuman Recording, your vision and your ideas are realized.
Careful attention to detail and years of hands-on knowledge and experience are given to every project that we do. We understand that your recordings are important time capsules and that you want them to sound and feel great for years to come. The recording environment at Shuman is comfortable yet arranged in a way that maintains efficiency and inspires creativity at the same time.
We keep our customers happy and satisfied by accommodating all possibilities.

According to Owner/Engineer Scott Shuman, the clientele of Shuman Recording is quite varied and eclectic. Scott says, "We have done Spoken word, World music (a la Ethiopia), Jazz, Bluegrass and off site recordings of everything from large classical productions in Washington, to location recordings of Blues and R&B in St. Louis and the mid west."
We also understand musicians and their needs.
"As a younger musician, I would record in studios where the engineers would try to get my music to sound like they thought it should sound. That's when I got into engineering. Musicians have their own vision, and I think it's important to respect that."
Because of our commitment and close personal relationships with our clients, the studio has been booked and consistently busy for almost 12 years. We have a long list of customers who keep coming back including IONA, the premier Pan Celtic band, the notable conductor Clifford Hardin and Singer Songwriters Mike Johns and James Manion. Shuman recording consults to, and does much of the digital remastering for Time Life Music, and works on a daily basis with many of the other major record labels.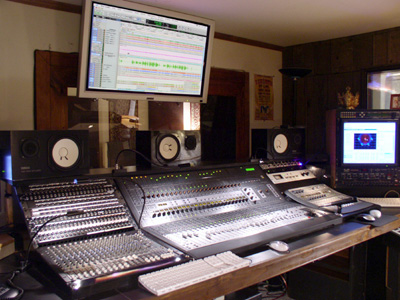 The Control Room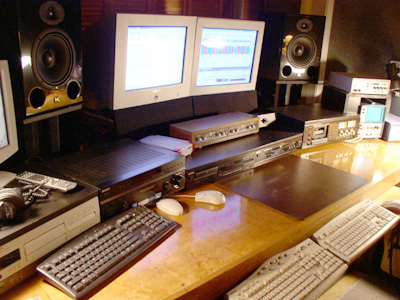 Editing and Premastering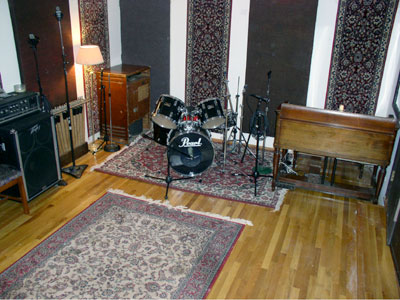 Acoustic Room A
14' x 26' with a 12' Ceiling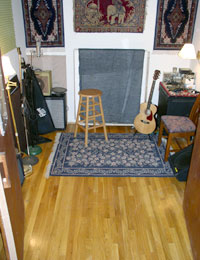 Acoustic Room B
10' x 8' with a 9' Ceiling



Acoustic Room C
8' x 8' x 8' Isolation Booth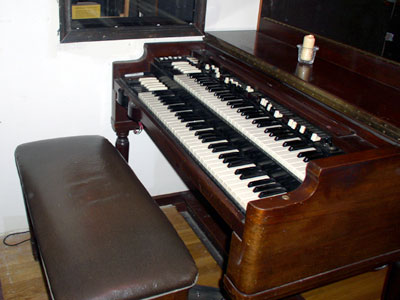 Hammond C-3
---
GEAR LIST
Control Room

16' x 18' (with an extremely comfortable couch)

Acoustic Rooms (3)

14' x 26' w/12' Ceiling
10' x 8' w/9' Ceiling
8' x 8' x 8' Isolation

Console

Digidesign control 24 fully automated

Analog Recorders

Studer a-80 MK2
2" 24 Track (30 ips)
Tascam - 32

Digital Recorders

DA-45 DAT
ADAT XT (3)
w/Sync to SMPTE

Dynamics Processing

George Massenburg 8200 Stereo EQ
UREI-1176
Drawmer Gates and De-essers
Drawmer M500 Dynamics Processor
BBE 22-A Sonic Maximizer
Inovonics 201 Compressor/Limiter
Inovonics 210 High Frequency Limiter
Inovonics Tri-band Buss Limiter
with Spectral Loading

Hard Disc Recording and Editing

ProTools HD - Digidesign
Samplitude 24-96 (24 Bit/96K)

Mastering

Samplitude 7.0 Professional
W/Steinburg Noise Reduction
Steinburg "Waves" and Wavelab


Monitors

Event Studio Precision 8
Complete 5.1 and 4.1 monitoring
Yamaha NS-10M w/subwoofer

Preamps

1 Drawmer Mercenary Edition Dual Mic Preamp
1 Drawmer 1969 Tube comp/limiter/mic pre
4 GML mic preamps
8 Focusright mic preamps
12 Focusright A-D converters

Amplifiers

Crown DC300
Kenwood CS-2
Hafler p4000

Instruments

Hammond C-3 w/ 122, 148 & Yamaha Leslies
Pearl Drums
Fender Concert, Hot Rod Deville, Roland Jazz Chorus Amplifiers

Microphones

Neumann 170 R
Neumann TLM 103
Neumann U-87
Neumann KM-184 (2)
Bruel & Kraer (3)
AKG 414 (8)
C-1000s
Shure 57 & 58s
Crown Vintage Gold PZMs (2)
EvRE-20
Sennheiser 441

Headphones

Sony v-600
Sony 750
Phillips 900 Mhz wireless

Headphone Mix

2 stereo mixes with individual mix control for panning, bass and treble

Multimedia,
Film and DVD

Macintosh G5 w/ 2Ghz proc., 2GB Ram
Final Cut Pro
DVD Studio Pro-2
ProTools